TripConnectTM: the direct booking program of TripAdvisor®
With TripConnectTM and KE-booking® you can now include your rate and booking link directly in your listing on TripAdvisor.
Explanation
Until now only online travel agencies (OTAs) could display a price for your property within your property listing on TripAdvisor, it's over now!
You can now also appear in these results and sell in direct on TripAdvisor.
Condition of access to this service: use a certified booking engine
The condition for the establishment to use the TripConnectTM service is to use a booking engine certified by TripAdvisor is the case of KE-booking® who is TripConnect Premium Partner certified.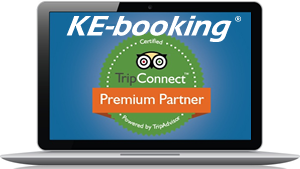 What are the goals sought ?
Redirect travelers directly to your booking page and make the direct booking process easier and faster for your prospective customers
Increase your revenues with travelers who book directly on your website where it is easier to offer rooms at a higher rate
Reduce your costs by generating more direct bookings and lowering your acquisition costs
« Three services in one » thanks to TripConnect Premium Partner certification
TripConnectTM: generate direct bookings
Automatic Express reviews: allows you to automate the collection of reviews
Suivis du ROI: allows you to track the ROI of your TripConnectTM campaigns
As a TripConnect Premium Partner, we are pleased to give you this new opportunity to increase your direct bookings. Also benefit from Automatic Revenue Tracking and Express Reviews services that will make collecting traveler reviews easier than ever on TripAdvisor.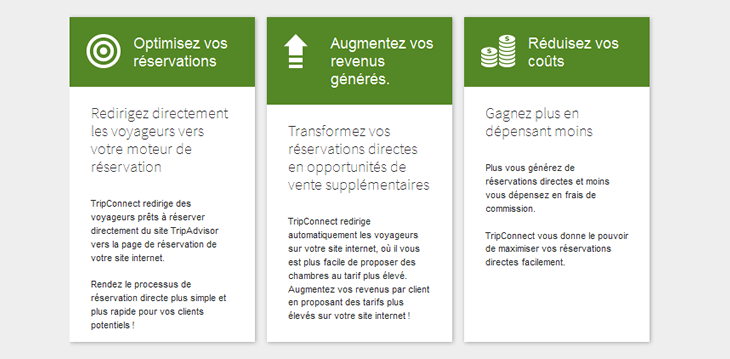 source TripAdvisor
TripConnectTM and KE-booking® : how it works ?
Once your account is set up, TripAdvisor users will see a clickable link named "Official Site" next to OTA (Online Travel Agencies) links in your business listing (see illustration below).
After clicking on the link "official website", users go directly to your booking page on KE-booking ® and can book directly with your establishment with ease.
How to start ?
To start, it is very simple:
1) register with KE-booking (registration) if you are not yet a customer
2) go to your Contacts Area on TripAdvisor and follow the instructions (or click here to know more).
3) go to your KE-booking PMS and activate the TripConnect feature
4) congratulations, you are ready to receive direct bookings from TripAdvisor !
The of KE-Booking®
We have worked to make this service as simple as possible, there is nothing to configure or configure, everything is done for you.