Synchronization: Keep peace of mind, synchronize your plannings
2-ways synchronization
In the outbound direction, all bookings entered or made via KE-booking® are automatically transferred to your other schedules.
In the incoming direction, all your bookings made via another service are automatically added to your KE-booking® schedules.
Beyond the comfort that synchronization provides, it also secures the state of your availability and greatly reduces the risk of overbooking.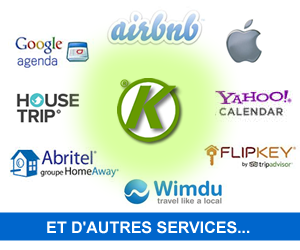 Operation
KE-booking® automatically syncs your schedules with other tools and / or services you use elsewhere.
Synchronization allows you to avoid manually rescheduling your bookings from one schedule to the next. By simply entering the calendar address to be synchronized, your KE-booking® calendars are synchronized in both directions with your external calendars.
This feature is very simple to set up from your KE-booking PMS.