Payments Manager: the payments and guarantee deposits system of KE-booking®
FASTER, more MODERN, more SECURE ! Accept payments and guarantee deposits from the whole world remotely or on site ! KE-booking®, offers you the possibility to ask for payments and deposits to your customers, that they can settle online on our secured payment plateforme.
A major challenge
Taking quick and easy payments (down payment / deposit / balance) by credit card is a major issue to ensure its cash by avoiding late cancellations or no-show.
You operate today by manually entering credit card numbers or by requesting a check, bank transfer, or nothing.
None of these means is appreciated by a large majority of French or foreign customers for reasons of security or complexity.
Payments Manager allows you to respond to different situations and to secure payment and booking for you and your client.
You secure your business by offering a service appreciated by your client.
Use a simple and secure payment system remotely or on site
By email, SMS or on site, Payments Manager offers several types of payment request to satisfy all possible use cases.
You accept payments by Visa, Visa Electron, Mastercard, Maestro, CB, E-cardbleue securely. Payments are made in 3D-secure on our secure payment platform.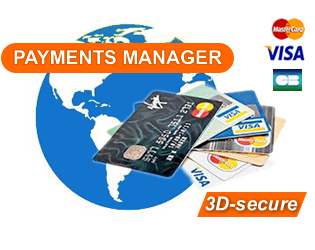 An innovative payment system developed for tourism
Ask for immediate or deferred payments for all your reservations regardless of the booking channel (phone, mail, directories, OTA etc ..).
In two clicks in your booking, ask for the payment or payments attached to it (down payment / deposit, down payment / deposit + balance or total payment).
Personalize your requests
Alert payment by Mail and SMS
Track payment status with our unique tracking system
Minimize the reconciliation time of payments and reservations
Optimize accounting time and costs
Grow your sales and your customers
As a universal means of payment, bank cards are the first means of payment in many countries.
Take payments by credit card on site without payment terminal.
By using Payments Manager on site, you indicate to your customers on your site, directories and all your communication tools that you accept the credit card.
You attract a new particular clientele but especially professional and foreign.
Many features
Simplified Mobile Payments:
Our secure payment platform automatically offers a version dedicated to mobile devices. So your customers can pay from all types of devices (desktop, smartphone or tablet).
Multi-languages
Payment requests are sent in the most appropriate language for your customers.
Sell ​​products or services
Also use Payments Manager to request payments for all the services you market (products or services). It's simple, convenient, in a few seconds you have requested payment.
Manage and take your payments & deposits according to your operation
It is possible to schedule payment requests / deposits. This feature is very useful when you want to collect the balance before your customers arrive. So you just need to specify it when entering the booking and our system will send the request and cash the payment without any action on your part.
The of Payments Manager
Fees on transactions among the cheapest on the market, offering a highly secured system fully adapted to the tourism market.